6:30am: Have breakfast.
7:30am: Moving to the port by car then to enjoy the boat trip: Lighthouse and Bay Canh island.
8:30am: Anchoring at Nha Kho rocky beach on Bay Canh island, visitors walk on the small road to the lighthouse (about 1km lenght). On the way, it is easy to enjoy landscapes in Con Dao as well as learning about National park natural resources.
9:00am: The lighthouse is in front of visitors. It was built in French time 1882 with special structure. The light still works until now to help boat traffic in Con Dao area. Take photograph and study about this lighthouse.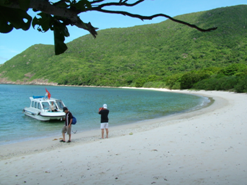 10:00am: Come back Nha Kho beach to get boat for Bo Dap beach – Bay Canh island. Go snorkeling to discover beautiful coral reefs in very clear water.
11:00am: Get the shore to explore the island with mangrove forest, learning about Sea turtles conservation, and then release hatchlings to the sea (if any). Swimming and freely, take photographs.
12:00pm: Have baberque at Bay Canh station.
1:30pm: Come back the hotel and relax.
*Note: Option tour in case boat trip is imposible caused of weather.
SO RAY PLANTATION – ONG DUNG BEACH – MA THIENG LANH BRIDGE
8g00: Trekking in the forest up to a height of 260m to visit the So Ray plantation. Here you can explore tropical forest, many rare and endemic species such as Con Dao Long-Tailed Macaque, Con Dao Black gaint squirrel, and other native wildlife can be found in this area. You can make a town view from watch-towel.
10:00am: Continuing the trek to Ong Dung beach, you can see ancient trees and some bird species that only live in Con Dao such as Imperial Pigeon and Nicobar pigeon.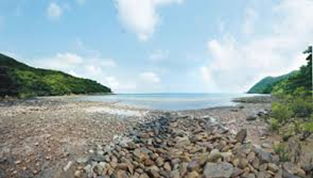 11:15am: You can go snorkeling to see coral and reef fishes at Ông Đụng beach, having lunch at Ong Dung Ranger Station and take a bit of rest..
12:00pm: Have baberque with Ranger in Ong Dung station.
2:00pm: On the returning trip, visitors can learn more about Côn Đảo's wildlife by reading environmental interpretation signboards along the way. The tour stops at Ma Thiên Lãnh Bridge, a historical relic built by Vietnamese prisoners under the French regime in the 1930s.
6:30pm: Have dinner and enjoy Con Dao night