6:30am: Have breakfast.
8:00am: Moving to the port by car then to enjoy the boat trip: Con Son bay – Cau island – Bay Canh island.
8:45am: Anchoring in front of Cat Lon beach, Bay Canh island to go snorkeling to discover beautiful coral reefs in very clear water.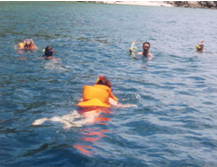 11:00am: Get the shore to explore the island with mangrove forest, learning about Sea turtles conservation, and then release hatchlings to the sea (if any). Swimming and freely, take photographs.
12:00pm: Have BBQ at Bay Canh station.
1:30pm: Come back the town and relax freely.
*Note: Option tour in case boat trip is imposible caused of weather.
SO RAY PLANTATION – ONG DUNG BEACH – MA THIENG LANH BRIDGE
8g00: Trekking in the forest up to a height of 260m to visit the So Ray plantation. Here you can explore tropical forest, many rare and endemic species such as Con Dao Long-Tailed Macaque, Con Dao Black gaint squirrel, and other native wildlife can be found in this area. You can make a town view from watch-towel.
10:00am: Continuing the trek to Ong Dung beach, you can see ancient trees and some bird species that only live in Con Dao such as Imperial Pigeon and Nicobar pigeon.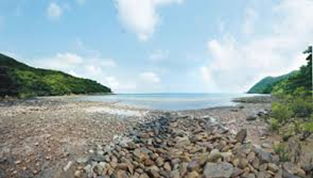 11:15am: You can go snorkeling to see coral and reef fishes at Ông Đụng beach, having lunch at Ong Dung Ranger Station and take a bit of rest..
12:00pm: Have baberque with Ranger in Ong Dung station.
2:00pm: On the returning trip, visitors can learn more about Côn Đảo's wildlife by reading environmental interpretation signboards along the way. The tour stops at Ma Thiên Lãnh Bridge, a historical relic built by Vietnamese prisoners under the French regime in the 1930s.
6:30pm: Have dinner and enjoy Con Dao night