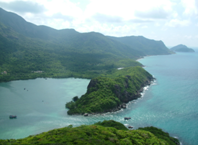 6:00am: Arrived Ben Dam Port – Con Dao by ferry. Visit the port before come the town for check in. On the way car will go by Love peak. Nhat beach, Shark cape,… Cảng Bến Đầm và hướng dẫn tham quan cảng
7:00am: Have breakfast.
8:30am: Car and guide will take visitors visit some famous Con Dao historical relics
• French Tiger Cages: The center of Con Dao prison system. Discover Tiger Cages system built solidly hidden among the maze-like and eyesight fool buildings, where the most brutal tortures applied to prisoners.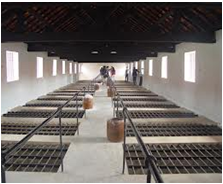 • American Tiger Cages: With small and wet cell ranges were built in 1971, this prison was known as the place tortured mental and physical prisoners. This was also the first place in Con Dao got information about Saigon liberated.
The Lord Building: Formerly, this house was the working place of Lord generations. Visitors can learn about Con Dao history by the artifacts, antiques, photographs and materials were formed from the French colonial period to the present.
• Phu Hai Prison: The prison where pledged, exiled and tortured thousands of communist with names: Rice Tunnel, Cells,…
• Separated Shed Place: used to livestock, mostly for cattle during French and American time. Here has a big cattle shit cell used to torture prisoners.
Tau Be cape. Stop to incense at Canh Prince Temple- Nguyen Anh King and Phi Yen Concubine's son. Continue to Dam Trau beach – a beautiful yellow sandy beach wildly. Visitors enjoy clear water and some sea sports.
5:30pm: Come back hotel.
6:30pm: Have dinner and discover Con Dao night time.
10:00pm: Visit the Hang Duong cemetery where is resting place of over twenty thousand Vietnamese revolutionaries and patriots through imprisoned generations, brutally tortured. Visitors incense to commemorate the heroic martyrs as well as Vo Thi Sau heroine.
12:00pm: Have lunch.
1:00pm: Check in and take a rest.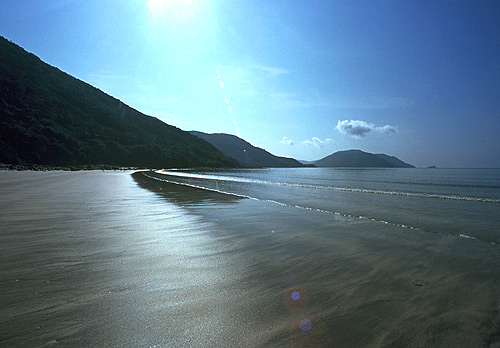 3:00pm: Visitors are driven to Dam Trau beach. On the way, visitors can pass Ong Tong slope
• Nhà chúa Đảo: Trước đây là nơi ở và làm việc của các thời kỳ Chúa Đảo. Tìm hiểu lịch sử hình thành Côn Đảo thông qua các hiện vật, cổ vật, hình ảnh và các tư liệu được hình thành từ thời Pháp thuộc đến nay.
• Trại tù Phú Hải: Nơi cầm cố, lưu đày và tra tấn hàng nghìn người tù chiến sĩ cộng sản như Hầm Xay Lúa, Xà Lim, ...
• Khu biệt lập chuồng bò: được dùng để chăn nuôi gia súc,
đặc biệt là nuôi bò trong thời Pháp và Mỹ. Nơi đây có hầm phân bò được dùng để tra tấn tù nhân bằng cách ngâm tù nhân vào hầm phân bò.